Lifelong Volunteer Awards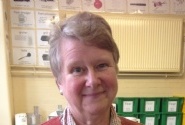 Miss Harrison, Head of DT Foods has reason to celebrate.
She has recentl
y been awarded with a Gold star Lifelong Volunteer Award in recognition of her dedication and commitment to Guiding. Somehow, Miss Harrison manages to find time to organise and run guiding activities for young people as well as being an outstanding Design Technology teacher at Rooks Heath. The Harrow's Heroes awards ceremony took place at Byron Hall in Harrow Leisure Centre in November. This is the 8th year of the annual volunteer awards, which is run by Harrow Council and aims to recognise the hundreds of unsung heroes that are helping out in their communities. Miss Harrison received a crystal trophy, a certificate, £100 for her Guide Unit and a shopping voucher to spend on herself. Well done Miss Harrison, we are all very proud of you and your achievement!