Desharne is not just a great singer!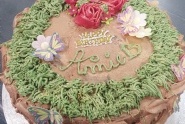 One of our Year 12 students is showing an outstanding talent for cake making.
Desharne in 12 Indigo is showing real entrepreneurial spirit and thinking of starting her own cake making business. She decided to make a Birthday Cake for her Drama teacher, Mrs Christmas and caused quite a stir when other inquisitive staff saw her putting the cake into the fridge. Everyone was in complete awe when she carried the cake into School. Desharne said that as she had been taught by Mrs Christmas she wanted to go the extra mile for her. We all think that Desharne would make a worthy candidate for the Great British Bake Off and Mrs Christmas was delighted with the wonderful creation. It was such a huge cake that it was shared with everyone in the staff room and proved very popular. Well done Desharne!