Donations flood in for Refugee Crisis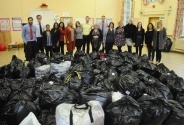 Students and staff rally in support of stranded refugees.
As we returned to School in September the media was reporting on the terrible plight of refugees fleeing for their lives and in desperate need of help. Staff and students felt that something should be done and plans were put in place to collect the following items.
Blankets
Toiletries
Camping gear
Tinned food
Clothes (particularly warm clothes with Winter coming)
Books for the thousands of displaced children
Donations flooded in as staff and students rallied to show their support and the School was almost overwhelmed by their generosity.
Under the guidance of Mrs Quantrell many staff and students volunteered to help with sorting through donations. Their time and generosity has made a much needed, immediate and timely impact on many lives.
Mr Pitchforth, Mr Sharp and Miss Rockell took a very, very full minibus of donations for THE refugees to a drop-off centre in St Albans. There was a queue of cars when they arrived, each dropping off two or three bags of donations. When the organisers saw the Rooks Heath mini bus, full to bursting their eyes lit up!
It was genuinely moving that everyone who was there... either dropping off or part of the organisation... was incredibly friendly and helped us to unload the donations our students and staff had collected. More than one person commented that our students are wonderful young people.
Below is some information from the organisation who took our donations on how their efforts have developed over the last month and what will happen to the donations.
"I'm Liz Needham, one of the founder members of St Albans for Refugees. The group was started in a phone conversation on Thursday 3rd September as a response to the growing refugee crisis in North Africa and Europe. It had its own website, Twitter account and Facebook page by the afternoon of the 4th September. It seemed as if local people were waiting for such a group, because three days later we had persuaded St Albans District Council to give us an empty garage, we'd had our first radio interview, had been contacted by the local newspapers and had had our first meeting!
Our first collection was held at the garage on Saturday 12th September and the garage was three quarters full by the end of the day. The response of the people of St Albans and surrounding areas has been phenomenal. Individuals have responded with donations, businesses have helped out indifferent ways, from making space available to us, offering us transport options and one local pub letting us use their premises to hold a benefit gig at the end of October. Three St Albans bands have all offered their services for nothing to raise funds. 23 days after we started we have our first consignment of camping gear en route to Calais today and three full garages of items to sort, some of which will go to Calais and some to other refugee camps in Europe. It's been an amazing experience!
"Can you please pass on our thanks to all at Rooks Heath School."