Grad School and Debating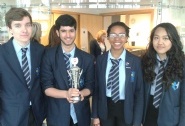 Haider is a Year 11 student who has just had an article fashioned and published by Debate Mate.
Last year, like many of Debate Mate's Graduate School students, Haider travelled over an hour on the tube from North West London every Saturday to attend the weekly sessions.Throughout the year, Haider has honed his debating skills at a number of schools competitions and has gained judging experience while acting as a wing judge for the Debate Mate Schools competition in February 2015.
He says about his debating ability, 'I learned to look at the status quo—how things are now—and how things will be when the motion is put in place. Now when I'm faced with a difficult motion, I have a better idea of how to go about it, whereas before I would just try and guess.' As a part of his social leadership project, Haider, Along with fellow Rooks Heath students, Jack, Chhaya, Akosua, Nathan and a Grad School peer, organised a debating workshop at a local primary school with over 60 children. Haider explains that the programme has not only made him a better debater but also a more engaged citizen: 'Before, I wouldn't have known so much about the issues in the world, especially in my local area. You wouldn't hear so much about the impact of different policies, the different groups that are affected, you learn about that at the Grad School.'
Click here to read more on the Debate Mate
Social Impact Evaluation and see Haider's article on page 21.
The Saturday sessions also give students the opportunity to broaden their horizons socially, meeting people not only across the city but across the country at debating competitions: 'There's also the social aspect – meeting people with the common interest of politics because, in high school, you don't really meet people who want to discuss issues in the world; here you make friends with people who have that common interest.' He continues, 'I have been recommending the Grad School, telling people they should come along. I tell them it's one of the best ways to spend your Saturdays, you'll learn about speaking, you'll learn about the world, meet people.' 'It's one of the best things I've taken part in in my life'.