Nathan Sykes sings for Year 7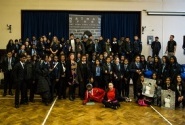 Year 7 are joined in assembly by Nathan Sykes, singer from 'The Wanted'.
On Monday 12.10.2015 Year 7 were bursting with excitement as they were joined in assembly by Nathan Sykes. Students arrived early to catch a glimpse of this popular artist and have autographs signed.
Nathan performed two songs - Kiss Me Quick and his new single, which he sang and played the piano for. He gave some inspirational answers to questions, telling students that they should believe in themselves and never give up.
Students involved in the Summer School, organised by Mr Ring, made their own film clip to 'Kiss Me Quick' in their music and media lessons and it was their efforts that led us to having Nathan come to perform for us. He said he was very impressed with how musical the students were at Rooks Heath and that he loved watching the clip that the students made.
Nathan is already a successful solo artist and is also a member of the incredibly successful group, 'The Wanted' selling over 11 million records worldwide. His latest single 'Kiss Me Quick' was recently number one on the American Billboard Dance charts. We are delighted that Nathan chose to come to Rooks Heath and he definitely has a strong fan base here. We wish him success in everything he does and we know that our students will be sure to follow his career with great interest after having such a unique experience.