Year 7 Geography Trip to The Living Rainforest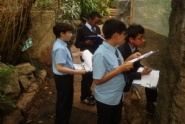 On Wednesday 25 March a group of eager Year 7s embarked on their trip to the Living Rainforest in Hampstead Norreys, Berkshire.
On Wednesday 25 March a group of eager Year 7s embarked on their trip to the Living Rainforest in Hampstead Norreys, Berkshire. Before we began our journey, we were counted and given clipboards, and the work booklets to complete on our trip. We were put into groups as we waited for our coach to arrive. On the long drive, we entertained ourselves with music, jokes and well-deserved sleep.
When our destination was reached we were counted for the umpteenth time, and Mrs Arnold (who made this all happen), informed staff at the Living Rainforest that we had arrived. Students from four other schools had already arrived so we were allocated the last remaining area to dispatch our bags and blazers. Before we were due for our tour, we were given some free time to explore and begin completing our work booklets. The first group to enter was Mrs Arnold's group, followed by Mr Simpson's and Ms Lane's.
Unfortunately, we only had about ten minutes until all the groups were led back into the glasshouses with separate tour guides. Mrs Arnold's tour guide was a friendly woman called Yvonne. She had a brown bag slung over her shoulder containing photographs and a water bottle. As she walked us about she commented on the colourful plants and animals and how they have adapted to the hot and humid conditions of the Amazon Rainforest. The adaptations that plants and animals have made were amazing. Some have changed their diet and others have even changed their body shape! For example, the dwarf crocodile was as large as any other cold-blooded reptile in their family but a lack of large animals to eat, such as gazelles and wildebeest, forced it to eat anything it could find, usually fish. So, over the centuries they got smaller and smaller until they reached the size they are now. They only have one dwarf crocodile in the glasshouse and this will be leaving soon to fly to Germany to mate with the only adult male of the species known to be alive. Two plants which have adapted to the heavy rainfall are the banana and ginger plants. They have ribs and gutters, and drip tips on their leaves. The leaves are also waxy, and Yvonne showed us with the water in her bottle how water quickly runs off waxy surfaces.
As we looked at the animals, a special monkey took the space as my newly-found favourite. The Goeldi monkey has large black eyes and equally black fur. Instead of using its tail to balance, it uses all four limbs. All that before lunch!
As we exited the glasshouses, we joined the long queue to wash our hands to dispose of any bacteria we may have picked up. We were given the choice to either eat our lunch inside or picnic outside. Most of us chose outside as it was a sunny, beautiful day.
After eating, we looked around the gift shop which had many humourous, fun-looking toys and games, as well as magnets and books.
We then returned to the glasshouses for the final time to complete our work booklets. To find out the information we needed, we read the small fact files next to the plants and animals. As we wrote down interesting facts, we took photographs of the surrounding plants and animals. We also drew sketches of some of the plants and animals. When we had completed our work booklets, we were given permission to walk around. But this time, instead of embracing this opportunity to admire nature's beauty, many of us took selfies!
As we exited the glasshouses for the final time, we bought some things in the gift shop. And then we left to head back to school. This was an amazing experience and I would strongly recommend this trip to other students.
Qamar (7 Green)