The Centre of the Cell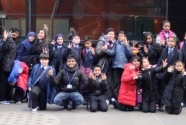 On Wednesday 4th February, Year 7 students visited The Centre of the Cell with Mr Miranda, Ms Janagan and Mr Pitchforth.
On Wednesday 4th February, Year 7 students visited The Centre of the Cell with Mr Miranda, Ms Janagan and Mr Pitchforth. The Centre of the Cell is based at the Whitechapel Campus of Queen Mary University and is the first science education centre in the world to be located within working biomedical research laboratories. The following is an account of the day written by some students who went on the trip.
'When we walked out of the tube station at Whitechapel, I felt like an ant in the crowd. The buildings I could see were gigantic and the place was crowded with lots of people who were all walking in different directions. When we arrived at The Centre of the Cell, I could see two huge buildings attached to each other with a long bridge. We walked in and took a seat while we waited for the instructor and scientist to arrive. The whole building was new, bright and colourful. When the instructor and scientist arrived, they briefed us on what we were going to do. They also asked us questions to find out what we already knew about cells, the types of different cells and how they work.
We then followed the instructor into the other building through the bridge. As we were walking we saw the laboratories and the scientists working underground, but we had to be super quiet so that we did not disturb the important scientists at work. We then walked into a large room. It was ruby red and very bright. We took our seats and looked up to see huge screens which played a video about cells. What we all enjoyed the most was when the screen showed images of the audience waving and making silly faces.
Then the nucleus began to open. It was amazing because it took a long time to open which created suspense for us as we wanted to know what was inside! When it finally opened, we were amazed. Inside, there were touch screen games where we learnt things that were beyond our knowledge and lots of interesting facts. There was this one really funny game which showed how cells evolved over time. It was funny because you had to take a 'selfie' of your face and then your face was shown on a cartoon body as you aged. It was even more funny when Mr Miranda did it!
We then watched another video about researchers and how they work to discover more about cells. Did you know that if you are in the sunlight too much you can get cancer because it is not good for your cells? We then looked at samples of organs from our body including lungs, half a brain, kidneys and skin that were grown in the laboratory. After lunch we visited the gift shop where people bought some souvenirs like bouncy balls, magnetic pens, teddy bears and flashing yo-yos.
Sadly, our day came to an end but we will treasure this experience; it really was so much fun. If you ever get a chance to visit the Cell then don't miss out!' Praniya, Divya, Sarah & Tarini (7 Violet)