Rooks Heath Sports News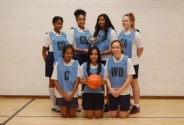 The girls have continued where they left off last year with successes in Netball , Football , Badminton and Volleyball.
The girls have continued where they left off last year with successes in Netball , Football , Badminton and Volleyball.
NETBALL
Both the Year 10 and Year 11 teams are now Borough Champions having won both the Leagues and Tournaments. Their success is exceptional because they did not lose a single game in any of their matches. This means that Rooks Heath currently have the best teams in the borough.
The Year 10 team – Adriana, Dilacsha, Zoe, The Year 11 team – Roche, Rianna, Janet, Tiana, Mia, Naveen, Sapphyre and Arti. Naomi, Queen, Amber, Shanika, Samantha and Jessica.
FOOTBALL
The girls took part in the U16 Borough Football Tournament on a very rainy afternoon in October. While I was huddled under my umbrella they braved the elements and reached the finals which ended in a draw. This meant that the result would have to be settled on penalties. With Mia in goal, and Zoe, Barbara and Mia taking the penalties we were eventual winners. Other players were Kayleigh, Naomi, Sapphyre and Joy. This win means that Rooks Heath have now won for three consecutive years.
VOLLEYBALL
We selected two teams to compete in the Borough Volleyball Tournament. This year there were eight teams entered in the competition. The first team were a mixture of Year 10 and 11 girls who came top in their pool. They went on to play Sacred Heart in the final but unfortunately lost the game. The second team was compiled of students from Year 9 who only took up volleyball this year and finished in fifth place.
BADMINTON
The girls team entered in the Harrow Schools Badminton Tournament, and again they performed very well. Both U14 and U16 teams finished in second place, only losing to North London Collegiate School.
Under 14 team – Elaha, Sonya, Roshani and Nilam
Under 16 team - Paula, Mezhegan, Arti and Swara.
Mr Whitfield took a group of boys from Years 7,8 and 9 to local schools over a 3 week period to compete in the Harrow U14 Badminton Tournament. This tournament has been dominated by Park High and John Lyon for the last 15 years with our best result coming 2nd. Over the first 2 rounds we played well enough to go through to the finals beating Whitmore, Park High and Harrow High on the way. It was clear from the first two rounds that winning the final was going to be a very difficult task as we lost to both Salvatorian and John Lyon who were both through to the Final as well. The final took place at Whitmore and we started beating the home team 4-3 on games. We then played our hardest match against John Lyon who were the holders of the trophy for the previous 2 years. We again somehow managed to scrape through on the last point to win 4-3! Now all we had to do was beat Salvatorian and the Trophy was ours. It was tense right until the last point of the last game when again we managed to win 4-3! The U14 boys team - Kwabena, Musa, Jathavan , Samuel and Mihir.