Year 13 Biology Field Trip to Epping Forest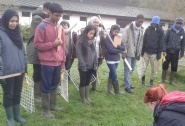 On the 5th of November 2014, 15 A2 Biology students and 2 members of staff went to Epping Forest for a biology field trip.
Guy Fawkes Day was slightly different for Year 13 biologists as they were up at the crack of dawn and spent most of the day in the freezing cold! However, a great time was had by all and below is an account of their experience.
On the 5th of November, 15 A2 Biology students and 2 members of staff went to Epping Forest for a biology field trip. It was a dark, bitter Wednesday morning when we all sluggishly arrived at School, most of us somewhat still with half-closed eyes, snoozing with the most unglamorous outfits on, ready for the day to do some field work! It was an hour before we finally arrived at Epping Forest. One of the many exciting things we did included sampling a section of an area to understand its biodiversity (i.e. the variety of different species in an area) and its abundance in that particular environment. We did this in groups of three using quadrats (square frames). Another thing we did was systematic sampling using a particular method called "belt transect ". This involved sampling at fixed intervals along a line. Using this method we investigated changes from exposed top soil to grassland. Even if we didn't almost get to grips with the biological bits (which we did, obviously!), we all certainly did amazing team work and had a fun, yet informative experience!
The pond dipping session, following lunch, was enjoyable, education
al and highly enriching. In our groups, we used a pond net to randomly sample a pond and collected all the organisms caught in the net. It was like being 5 again! We were assigned to identify each species with the aid of a dichotomous key. Some of which were so small we could hardly see them and others, like the dragon fly larvae which were enormous! We then had to carry out an investigation on one of the species, to identify the relationship between the environmental factors and the abundance of the specific species. Following the investigation, we reflected on our practical investigative skills and ascertained the limitations of the investigation and ways to potentially eliminate such limitations in the future. (Just like you do at GCSE!)
I believe that I am giving the feelings of all in saying that we felt very fortunate to have been under Abbie's guidance, who was a formidably knowledgeable mentor. I am certain that we will be able to use the knowledge gained from the day in our forthcoming assessments and exam questions. On the whole, it was an extremely informative day, and we would like to convey our gratitude to Mrs Hayward for providing us with such an invaluable experience and to Mr Clark for driving us.
Saumija and Harshitha (13 Blue)