London to Brighton 2014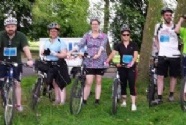 On Sunday 15th June, the Rooks Heath team rolled up to the start line of the London to Brighton Cycle Ride and raised over £1200 for The British Heart Foundation.
After months of meetings, form filling, begging for help from staff, people dropping out, others joining up, chasing lost information packs in the post, speaking to organisers, training rides, more meetings and nightmares about health and safety, the Rooks Heath team rolled up to the start line of the London to Brighton Cycle Ride on 15th June.
The Sunday traffic and the sheer number of cyclists made getting out of London a lengthy process. After an hour of peddling through the chilly morning air, the traffic gradually yielded to the riders as we headed for the first rest stop to check on everyone's condition 12 miles in. After waiting, stretching and stuffing down Snickers, one of our Sixth Formers, Donald, arrived. Having been less than vocal about a recurring knee injury in the run up to the ride, it was now clearly giving him pain and had visibly swollen. An ice pack and a bandage later and we were on the road again. The weather was now warming up, as were our riders, the car free roads and friendly, village fete atmosphere encouraging us all to step a little harder on the pedals. It was becoming clear that any previous plans we had made to stick together as team for the whole ride were disappearing. Team members had now either buddied-up or decided to cruise along individually, all of us finding our own pace and rhythm amongst the melee of cyclists as we made our way to the next agreed rest stop to check in and "carb-up".
Mr Wright and I had decided to stay with Donald for this stretch as he soldiered on with gritted teeth. We trundled up to the meeting point with Mr Wright pushing Don along from the back. I was now becoming more than a little concerned but had to admire his tenacity as he limped back from the medical tent with a fresh ice pack and declared that he wanted to keep going.
So off the team went again, taking in the sights as we pushed more road under our tyres. The weather kept the right side of pleasant as we rattled down shady country lanes and through tiny villages along side tandems, hand powered bikes and some very flash roadsters. Mr Sharp and I rode much of this stretch side by side, both in silence, absorbed in our respective ipod play lists.
With a good section of the route under our belts, we gradually all wheeled into the last rest stop before Ditchling Beacon. Just before I arrived, my phone rang and 6th former Matt was on the other end informing me that he was stopping at an earlier check point as he had just crashed. My heart began to beat a little faster as I started to flashback to my nightmares of injured students lying by the road side. A little shaken, Matt told me that he only had a few cuts and grazes and he would join us after he'd cleaned himself up. I breathed a little easier. The next bombshell came from Mr Wright from whom I discovered that Donald had ridden until the pain got too much and was now being driven to the finish by the ride marshals. A wounded Matt arrived with his first medals of the day, a lovely set of grazes on his knees and elbows. Amis and Rhiannon soon followed, a little breathless but all smiles and in high spirits. Mr Simpson arrived next, a natural rider, who showed no sign of fatigue. Mr Mahon, who had been beset with gear problems, was the last of the main group to check in due to losing his chain three times. Word came from Miss Bennett and Lauren that they were a fair way behind but were sticking together till the finish. We were to go on without them.
So, a man down, we hit the road again.
Ditchling Beacon has an elevation of over 800 feet and the road runs an extremely steep and punishing mile to the summit. It loomed on the horizon as we powered towards it. Most of the team had been obsessing over Ditchling in the run up to the ride. Now it was time to split from any riding partners, get our heads down and crank up alone for as far as we could make it.
At the summit we regrouped. The majority of the team managed about half way up before having to concede to the hill. However, Miss Schmal, Miss Nash, Mrs Todd and yours truly made it to the top without a foot touching the floor. The hill training we had done had clearly paid off. A brief stop for water and photos and we were off, flying down the other side towards the sea. The final stretch into Brighton started to mirror our departure from London as the traffic lights became more and more frequent. But the sound of people cheering the riders and the "ding, ding" of bicycle bells filling the air, spurred everyone along the final leg. It's here where Miss Nash decided that this was no longer a charity ride but a Tour De France stage as she began to race the front runners for the line. Her ambitions were, however, squashed by a surprise attack from Mr Crawford. One by one the riders crossed the line and we were reunited with Donald along the sea front. Mission accomplished, our van was loaded with bikes and our mini bus with weary riders. We had reached the end of a very long day.
Congratulations to Mrs Todd, Mr Wright, Miss Schmal, Mr Crawford, Mr Mahon, Mr Sharp, Mr Simpson, Miss Nash, Miss Bennett, Lauren, Amis, Matthew, Rhiannon, our two honorary Rooks Heath riders: Max and Sam and, of course, Donald (who rode until he could go no further). Together we have raised over £1200 for the British Heart Foundation. An enormous thank you must go to Miss Plant and Ms Williams for driving the van and mini bus for the team. We couldn't have done it without them.
Incidentally, nobody got a puncture! Incredible!
Mr Pitchforth
6th Form Enrichment Coordinator