Rooks Heath is Outstanding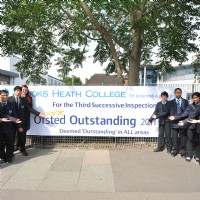 Rooks Heath School is celebrating a hat trick after achieving their third Outstanding, (Grade 1), Ofsted result in a row.
The Ofsted inspection took place on 4th and 5th July 2012 and the report states that: "Rooks Heath is an outstanding school" where: "Student achievement is outstanding" and: "Teachers' subject knowledge, focussed planning, productive relationships and consistently high expectations ensure that virtually all students make rapid and sustained progress". This is a unique achievement for the School, which was deemed 'Excellent' in 2005, (the top grade at the time), 'Outstanding' in 2008 and has achieved the highest grade possible in 2012 for each of the Ofsted categories of:
Achievement,

Quality of Teaching,

Behaviour and Safety and

Leadership and Management
Parents commented on the School having: "an exhilarating learning environment" with "constant challenge" and "ever increasing grades." Dr Reavley, Headteacher at the School for the last thirteen years said: "This is a fabulous achievement for the School and it is thanks to the consistent determination of some incredible students and the commitment of a dedicated staff who are focussed on helping children succeed. I am very proud of each and every one of them.