Round-Up February 2014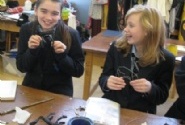 Students across the School have been working on various Art projects.
The year 7's are adding final touches to their Lowry clay figures and wire cats and dogs. Once completed and painted these should make a lovely display before students take them home.
Year 8
The year 8's having completed their study of Pop Art artists; have used Photo shop to turn themselves into Pop Art portraits complete with speech bubbles with reference to the work of Roy Lichtenstein and in a variety of colour-ways with reference to the work of Andy Warhol. The finished work will be displayed in A block corridors.
Year 9
The year 9's following on from their trip to Kew Gardens have made beautiful prints based on Botanical forms. This term they will create 3D clay tiles and sculptural forms reflecting botanical forms studied.
GCSE and A Level
The GCSE and A Level papers have now been given out and students have begun preparatory work for their final pieces of Art work. The AS and A2 papers have a numbers of questions to choose from and students work should be individual in nature.
The GCSE theme for 2104 is 'Order and Disorder' and is being looked at in a number of ways through set activities and individual interests. Students are collecting visual resources and ideas at present. As part of this, GCSE students went into London on the last day of term to visit the Tate Modern Gallery and the Museum of London. Despite miserable weather we were able to take lots of photographs and see lots of artists that can be used to explore the theme 'Order and Disorder'.
We looked at images of the Russian Revolution and war, we looked at sequence and order and compositions that were carefully organised and laid out. We looked at others that were random in nature or used chance to create art.