Rivers and Bridges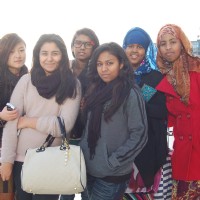 GCSE Art students went into London to experience the foreshore of the Thames first hand in line with their current theme of work, rivers and bridges.
Inspired by the work of American fine artist Mark Dion, students collected archaeological findings and artefacts of shells, wood, sedimentary rock and even man-made objects such rusted chains, eroded ropes and other fragments of ships. This was to influence their work in creating their own still life drawings, paintings and print making, sometimes culminating into large scale final pieces.
The day began with a trip to the London's East End, The Docklands! A 'flight' on the prestigious Emirates Air Line Cable Car was first on the agenda, giving students a unique vantage point from sky high over the Thames. Followed by a boat ride of the Thames Clipper, this voyage provided many photo opportunities for students to be able to feed into and inspire their work. After disembarking the Clipper, students took a leisurely stroll along with Thames foreshore. This took them, past Shakespeare's Globe Theatre, underneath the Millennium Bridge and just shy of Blackfriars Bridge where the day concluded with a visit to the Tate Modern. This gave students the valuable experience of viewing contemporary art from professional artists from around the world, ranging from Picasso to surrealist painter Salvador Dali.
Overall the day was a roaring success and the students, evidently had a great time!